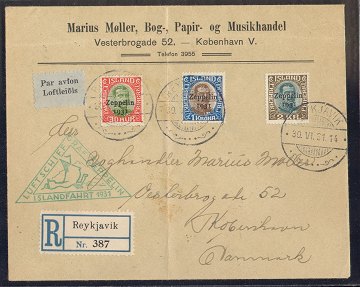 Island Zeppelin-flyvning 1931 + 2 stk. Zeppelinkort
Description:
Island Zeppelin flight 1931. AFA 147, 148 and 149 on shipment with stamp "Air Schiff Graf Zeppelin Islandsfahr 1931." On the back canceled Copenhagen and "Frederichshafen Bodensee"). Fold the middle of the envelope, not affecting marks.
Information from seller:
This item is not for sale at auction - but can purchased right away. The "Buy now" price is all inclusive - there is nothing added, except possible shipping costs.