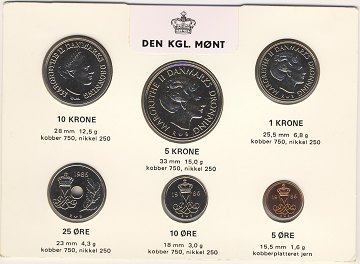 Kgl. Møntsæt 1986
Description:
Møntsættet indeholder samtlige mønter i Danmarks møntserie: 10-, 5-, og 1-kr samt 25-, 10- og 5 øre.

10 kr mønten i dette møntsæt er fremstillet som erindringsmønt i anledning af HkH Kronsprins Frederiks 18-års fødselsdag d. 26. maj 1986. (Modelfoto)
Information from seller:
This item is not for sale at auction - but can purchased right away. The "Buy now" price is all inclusive - there is nothing added, except possible shipping costs.
Note! Prices are subject to prior sale.