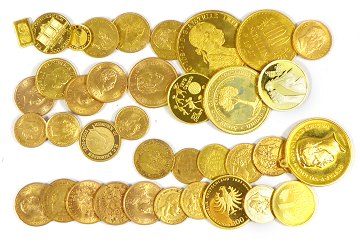 STORT LOT BLANDEDE GULDMØNTER - FININDHOLD 1 KILO
IGEN PÅ LAGER - FÅ KILO
Description:
Diverse guldmønter/medailler efter vort valg til kun 4% over dagens metalpris.
Prisen låses på købsdagen og der indbetales 10% af købssummen - derefter får vi nogle dage til at sammensætte lottet og restbeløbet betales ved udlevering.
Sælges også som ½ kilo - til den halve pris med tillæg af 1.000,- kr.
Foto er et modelfoto for at illustrere mange guldmønter og er ikke de mønter man får.
Information from seller:
This item is not for sale at auction - but can purchased right away. The "Buy now" price is all inclusive - there is nothing added, except possible shipping costs.Note! Prices are subject to prior sale.